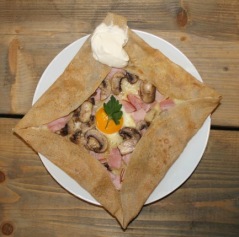 A swedish spin on a french tradition
Crêpes and galettes originate in Bretagne, France - where they follow the traditions.

Crêpes are made with regular white flour, while galettes are made with naturally gluten-free organic buckwheat flour. Galettes are a meal in themselves, filled with cheese, meat, fish and other savory ingredients. Crêpes are more than just pancakes, served as dessert or fika with decadent fillings.

At Crêperiet we have taken the concept further and our menu is filled with exciting and delicious combinations!

I början var vi lite nervösa när det kom hit fransmän, men det har visat sig att de verkligen gillar våra crêpes och galetter - de tyker till och med att det är bättre än hemma!

Här i Sverige är det fortfarande ovant att äta galetter och att dricka torr cider. Många gäster som kommer till oss för att prova blir glatt överraskade när de upptäcker hur gott och mättande det är. Det är särskilt roligt med alla gäster som återkommer.

Vi vill att alla ska känna sig välkomna till oss. Därför försöker vi ha en meny som prismässigt går från galetter för under hundralappen upp till mer lyxiga alternativ.