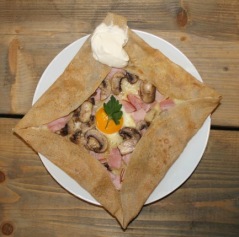 A swedish spin on a french tradition
Crêpes and galettes originate in Brittany, France - where they follow tradition.

Crêpes are made with regular white flour, while galettes are made with naturally gluten-free organic buckwheat flour. Galettes are a meal in themselves, filled with cheese, meat, fish, or other savory ingredients. Crêpes are more than just pancakes, served as dessert or fika with decadent fillings.

At Crêperiet we have taken the concept further and our menu is filled with exciting and delicious combinations!